Types of Lighting
General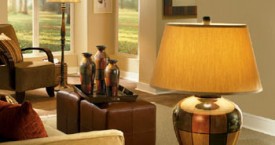 General lighting (sometimes referred to as ambient light) fills in between the two and is intended for general illumination of an area. Indoors, this would be a basic lamp on a table or floor, or a fixture on the ceiling.
Accent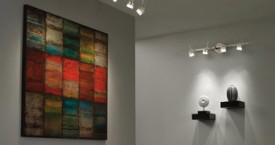 Accent lighting is mainly decorative, intended to highlight pictures, plants, or other elements of interior design or landscaping.
Task
Task lighting is mainly functional and is usually the most concentrated for purposes such as reading or inspection of materials.
Methods of Lighting
Front & Back Lighting
Front lighting is quite common but tends to make the subject look flat since it casts almost no visible shadows. Lighting from the side is the less common, as it tends to produce glare near eye level. Backlighting either around or through an object is mainly for accent.
Uplighting
Uplighting is less common, often used to bounce indirect light off the ceiling and back down. It is commonly used in lighting applications that require minimal glare and uniform general illuminance levels. Uplighting (indirect) uses a diffuse surface to reflect light in a space and can minimize disabling glare on computer displays and other dark glossy surfaces. It gives a more uniform presentation of the light output in operation. However indirect lighting is completely reliant upon the reflectance value of the surface. While indirect lighting can create a diffused and shadow free light effect it can be regarded as an uneconomical lighting principle
Downlighting
Downlighting is most common, with fixtures on or recessed in the ceiling casting light downward. This tends to be the most used method, used in both offices and homes. Although it is easy to design it has dramatic problems with glare and excess energy consumption due to large number of fittings.
Forms of Lighting
Inside Lighting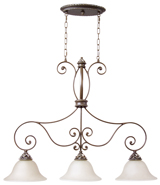 Forms of lighting include alcove lighting, which like most other uplighting is indirect. This is often done with fluorescent lighting (first available at the 1939 World's Fair) or rope light, or occasionally with neon lighting. It is a form of backlighting.
Soffit or close to wall lighting can be general or a decorative wall-wash, sometimes used to bring out texture (like stucco or plaster) on a wall, though this may also show its defects as well. The effect depends heavily on the exact type of lighting source used.
Recessed lighting (often called "pot lights" in Canada, "can lights" or 'high hats" in the US) is popular, with fixtures mounted into the ceiling structure so as to appear flush with it. These downlights can use narrow beam spotlights, or wider-angle floodlights, both of which are bulbs having their own reflectors. There are also downlights with internal reflectors designed to accept common 'A' lamps (light bulbs) which are generally less costly than reflector lamps. Downlights can be incandescent, fluorescent, HID (high intensity discharge) or LED.
Track lighting, invented by Lightolier, was popular at one point because it was much easier to install than recessed lighting, and individual fixtures are decorative and can be easily aimed at a wall. It has regained some popularity recently in low-voltage tracks, which often look nothing like their predecessors because they do not have the safety issues that line-voltage systems have, and are therefore less bulky and more ornamental in themselves. A master transformer feeds all of the fixtures on the track or rod with 12 or 24 volts, instead of each light fixture having its own line-to-low voltage transformer. There are traditional spots and floods, as well as other small hanging fixtures. A modified version of this is cable lighting, where lights are hung from or clipped to bare metal cables under tension.
A sconce is a wall-mounted fixture, particularly one that shines up and sometimes down as well. A torchiere is an uplight intended for ambient lighting. It is typically a floor lamp but may be wall-mounted like a sconce.
The portable or table lamp is probably the most common fixture, found in many homes and offices. The standard lamp and shade that sits on a table is general lighting, while the desk lamp is considered task lighting. Magnifier lamps are also task lighting.
The illuminated ceiling was once popular in the 1960s and 1970s but fell out of favor after the 1980s. This uses diffuser panels hung like a suspended ceiling below fluorescent lights, and is considered general lighting. Other forms include neon, which is not usually intended to illuminate anything else, but to actually be an artwork in itself. This would probably fall under accent lighting, though in a dark nightclub it could be considered general lighting.
In a movie theater each step in the aisles is usually marked with a row of small lights, for convenience and safety when the film has started, hence the other lights are off. Traditionally made up of small low wattage, low voltage lamps in a track or translucent tube, these are rapidly being replaced with LED based versions.
Outside Lighting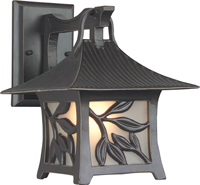 Street Lights are used to light roadways and walkways at night. Some manufacturers are designing LED and photovoltaic luminaires to provide an energy-efficient alternative to traditional street light fixtures.
Floodlights can be used to illuminate outdoor playing fields or work zones during nighttime hours. The most common type of floodlights are metal halide and high pressure sodium lights.
Beacon lights are positioned at the intersection of two roads to aid in navigation.
Security lights can be used along roadways in urban areas, or behind homes or commercial facilities. These are extremely bright lights used to deter crime. Security lights may include floodlights.
Entry lights can be used outside to illuminate and signal the entrance to a property.These lights are installed for safety, security, and for decoration.
Underwater accent lighting is also used for koi ponds, fountains, swimming pools and the like.